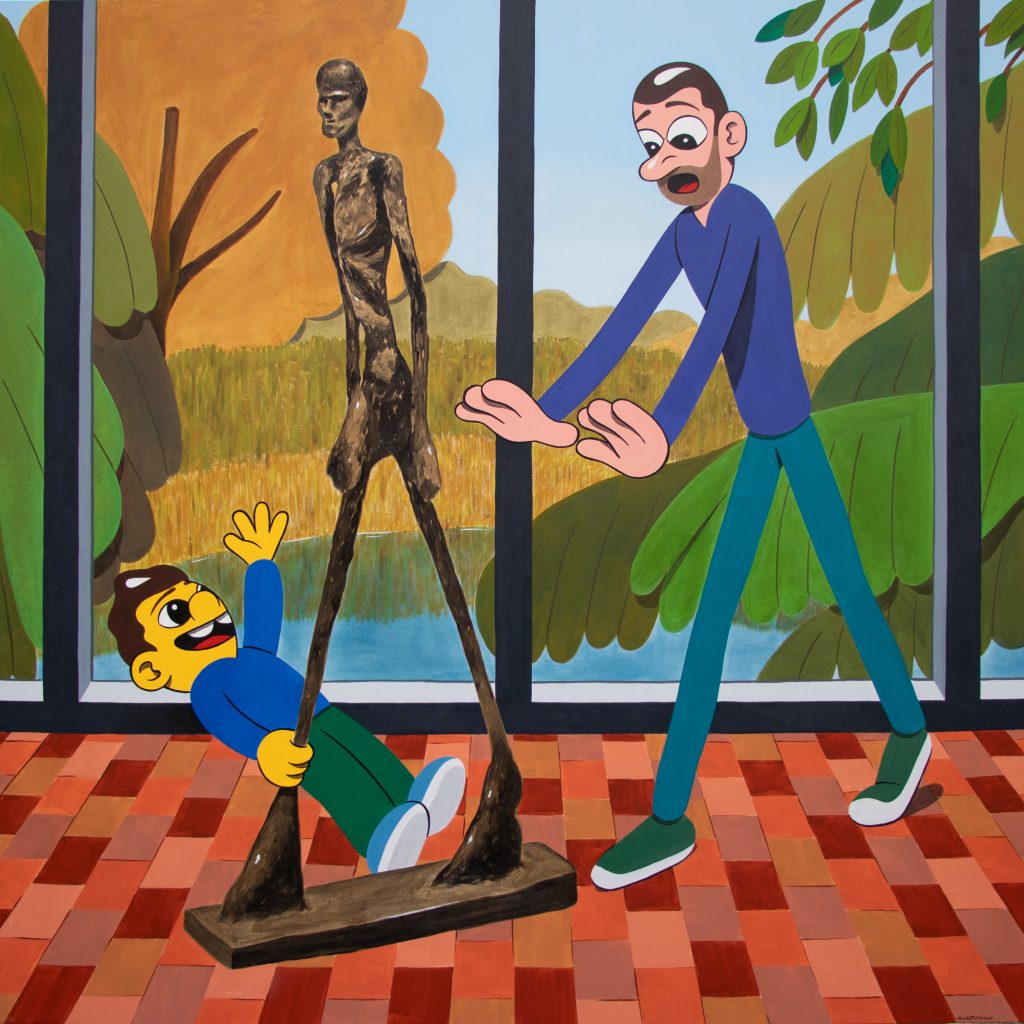 HuskMitNavn: Vanishing Points
October 6 – November 4
Opening: October 6, 4:00-6:00 PM
See available works by HuskMitNavn here.
Charlotte Fogh Gallery proudly presents "Vanishing Points", a solo exhibition by HuskMitNavn. The exhibition shows new paintings and drawings – i.a. the characteristic paper cut drawings as well as a number of new works where the frame is part of the work's narrative.
The works on "Vanishing Points" revolve around the theme of escapism. Where someone has veered off the usual route or dreams of it. Escapism is a characteristic that is used for several types of literature, film and visual arts. In the visual arts, escapism appears, for example in the trivial everyday scenes of the Golden Age and historical depictions of heroes in science fiction and surrealism or in abstract art – in short, all art that gives the opportunity to dream away from everyday life or into the lives and roles of others.
In "Vanishing Points", HuskMitNavn illustrates quirky everyday situations and interprets them with humor and warmth in its well-known style. Suburban and family life, pranks, rowdy children and teenagers with big dreams – they are all there and they all dream both big and small dreams of a life where everyday life is different and perhaps better than the here and now.
HuskMitNavn's easily recognizable line has positioned him as one of the most significant and ground-breaking artists both in Denmark and internationally. Over the years, his idiom has developed from graffiti's large areas of color and distinctive contour lines to a painterly style that combines the techniques of graffiti with more classical styles that bring to mind modern masters such as Vilhelm Lundstrøm, Henry Heerup and Storm P.
HuskMitNavn has exhibited in both Danish and international galleries, art galleries and art museums and is also represented in both public and private collections, e.g. ARoS, Statens Museum For Kunst, Kunsten i Aalborg, Design Museum Denmark, New Carlsberg Foundation and Statens Kunstfonds collections.
For further information, pictures etc. please contact Charlotte Fogh Gallery