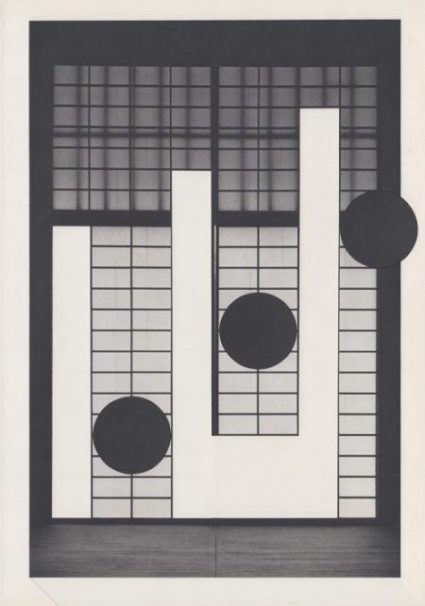 Louis Reith
See works from Ekkokammer here
Charlotte Fogh Gallery is delighted to present 'Ekkokammer', a solo exhibition by Dutch artist Louis Reith in the gallery's Locker Room.
In his collated assemblages from found book pages, Reith specifically seeks a relationship between the abstract and the figurative, and thereby creating new narratives.
The source material is derived from obsolete books, in which not only subject and size play a role, but also the printing technique and colour. These books are stripped from their covers and subject to observant deconstruction. What remains are loose pages and spreads that are recomposed, with their actual layout as a coincidental starting point. The final composition leads to transformed subjects as if it were a fictional archive from the future.
In these works Reith creates serene worlds where abandoned shelters and tranquil sculptures present a modern history, where black and white landscapes are disrupted by bold geometric constructions and ghostly figures. He aims to avoid technology in favour of physical and craft-based media.
For 'Ekkokammer' Reith created three series of collages and drawings, consisting of the classic basic forms; square, circle and triangle, but also architectural elements, nature and grid systems. Together these series create a kaleidoscopic form of poetry. The works reflect one another, but they also echo the language of influential directions in modern art; Dadaism, Surrealism and Functionalism.
The concept of 'Ekkokammer' has developed from the practice of creating sound, in which the artist has become more and more immersed since creating his own music. The repetitions of sounds within a large empty space -the artist studio- has influenced this particular series of works strongly. The calmness of space and the balance of composition, inspired from Japanese architecture and the layout of its carrier, resonates with the repetition of sound waves and rhythm. As well as the echo of thought and the lonely process of artistry, while living and working in the stillness of the countryside.
Louis Reith was born in 1983 and graduated from the AKI – Academy of Arts and Industries in Enschede in the Netherlands. Over the past 10 years, he has exhibited at numerous international galleries and art fairs and is represented in collections around the world – both private collections and museums e.g. EMMA in Espoo, Finland. This is Reith's second solo exhibition at Charlotte Fogh Gallery and most recently he has exhibited at Cinders Gallery and Morgan Lehman Gallery in New York, Enter Art Fair in Copenhagen, Market Art Fair in Stockholm and Art Brussels.