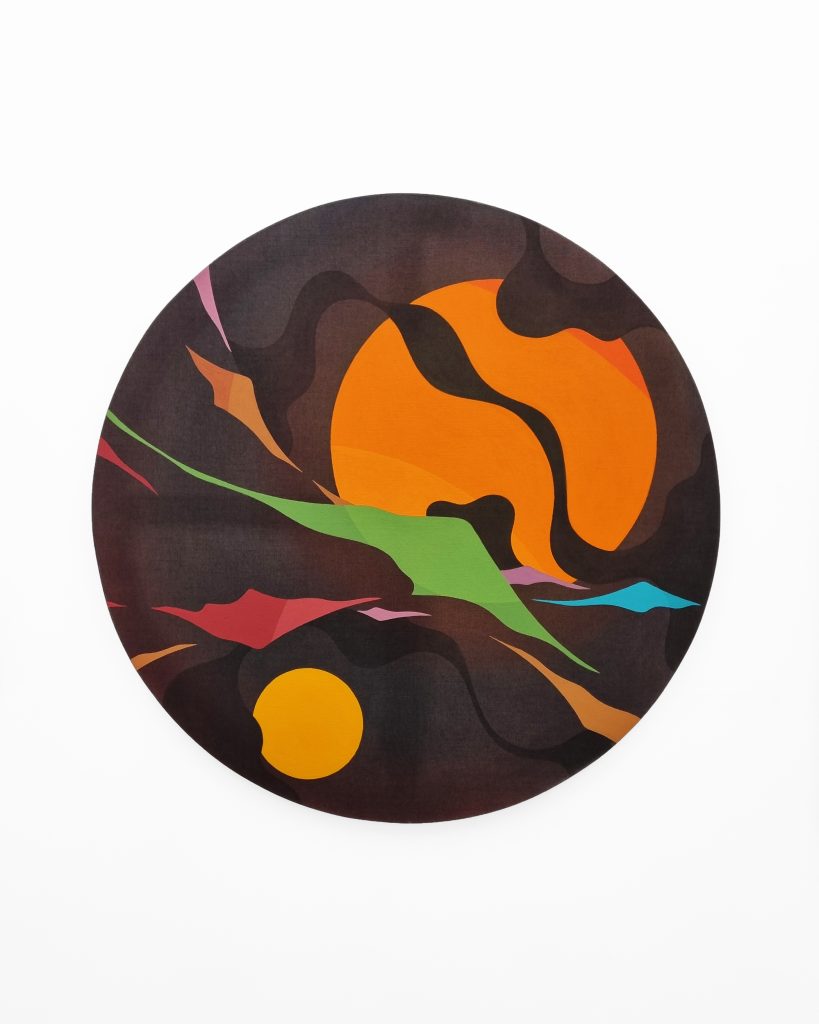 Eske Kath: Containing Landscape – In Orbit
February 5 – March 12  2022
Opening: Saturday, February 5 from 1.00-4.00 PM
Charlotte Fogh Gallery is proud to present the exhibition "Containing Landscapes – In Orbit" by Eske Kath. The exhibition is the artist's fourth solo exhibition at Charlotte Fogh Gallery and shows new paintings exploring landscapes as visual an abstract phenomenon.
The title "Containing Landscapes" holds a double meaning: A specific kind of containment and retention of landscapes or the landscapes contained in the mind. The duality is the central theme of the exhibition, where abstractions on vast and ornamental landscapes are pulled into orbit of brightly lit celestial objects. These celestial objects are attempted to become contained on canvas using the three elementary shapes: The square, the triangle, and the circle.
Where the landscape painting traditionally depicts the local landscape seen by a painter, the landscapes by Eske Kath are based on distorted and abstract global landscapes that are created in the mind. These types of distorted inner landscapes appear when we face the rapid change of the global landscapes that are deeply affected by years of human exploitation. Climate change and the constant turmoil within the geopolitical landscape create a sense of uncertainty and a future resting on a balance point: Will the suns set on a collapsing landscape or perhaps a new kind of balance in the Universe?
Eske Kath (b. 1975) graduated from the Royal Danish Academy of Fine Art in 2004 and lives and works in Copenhagen. The artist previously lived and worked in New York where he exhibited at internationally acclaimed galleries. Eske Kath is represented in Danish and international museum collections such as ARoS Museum of Contemporary Art in Aarhus, Arken Museum of Modern Art in Ishøj, HEART Museum in Herning and Sammlung Essl Museum of Contemporary Art in Vienna. In 2019 Kath showed a large-scale solo exhibition called "The Fundamental Uncertainty" at Trapholt Museum of Modern Art and Design in Kolding.
Find available works from the exhibition here.