Katja Bjørn
Katja Bjørn (b. 1967) is a Danish artist working with video sculpture. The starting point of the artists work has always been the investigation of the expression of the sculpture. Especially interesting to Katja Bjørn is the sculptures relationship to the human body. The sculptures are therefore often formed to create an active role for the viewer, either by direct interaction with the sculpture or by the sensuous perception. Recently her works have been focussed on video art and object trouvés, which she is altering into videosculptures, and in which she examines the crossover between the virtual space of the video and the physical and material space of the sculpture.
The sculptures are build up by everyday objects e.g. chest of drawers, doors or buckets. At first they appear as trivial tableaus, but a glance through the keyhole or in the drawer expose an intimate situation, we ought not to have witnessed. The narratives of the videos are often about human beings performing simple actions. Though the videos she takes the sculptures into another sphere and implant everyday situations or actions that though the sculptures transforms into an intimate confrontation and a play of the voyeurism of the viewer.
Please contact the gallery for further information and available artworks
Retreat, 2016
Video installation, 55" screen 5.35 min loop, no sound
Edition of 3
Silvered Lines of Enlightenment, 2020
Glass, silvered copper, LED light, screen, 75 x 44 x 30 cm, video loop 8 min, no sound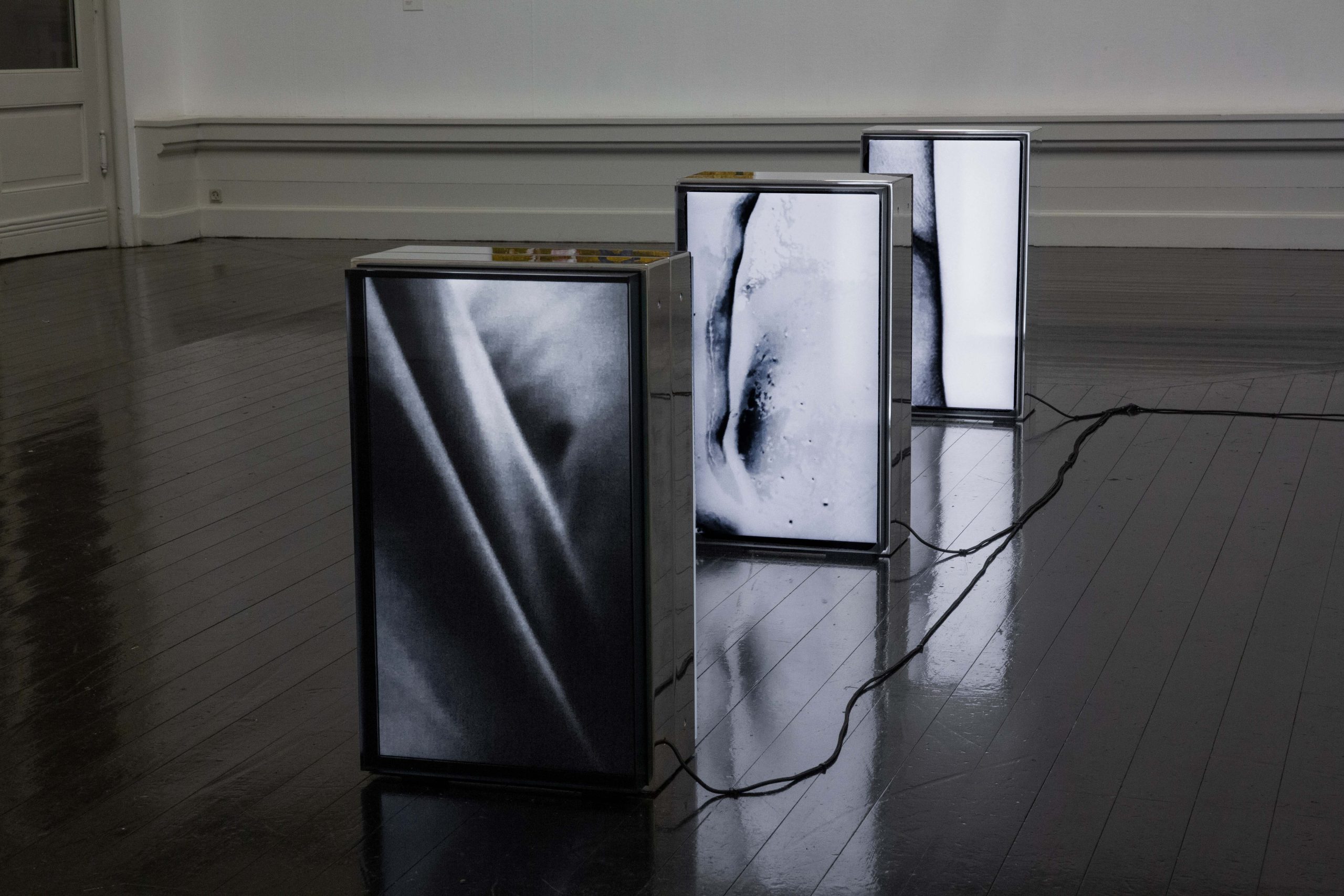 Involved, 2017
Six-channel video installation, 27 min, with sound.
Installation view from the exhibition Involved – a solo show by Katja Bjørn in 2017.
New Human, 2018
Double-channel video installation, 8 min loop, no sound.
The Source, 2014
Five-channel video installation, 25.25 min, with sound.
Installation view from the exhibition The Source – a solo show by Katja Bjørn in 2014.