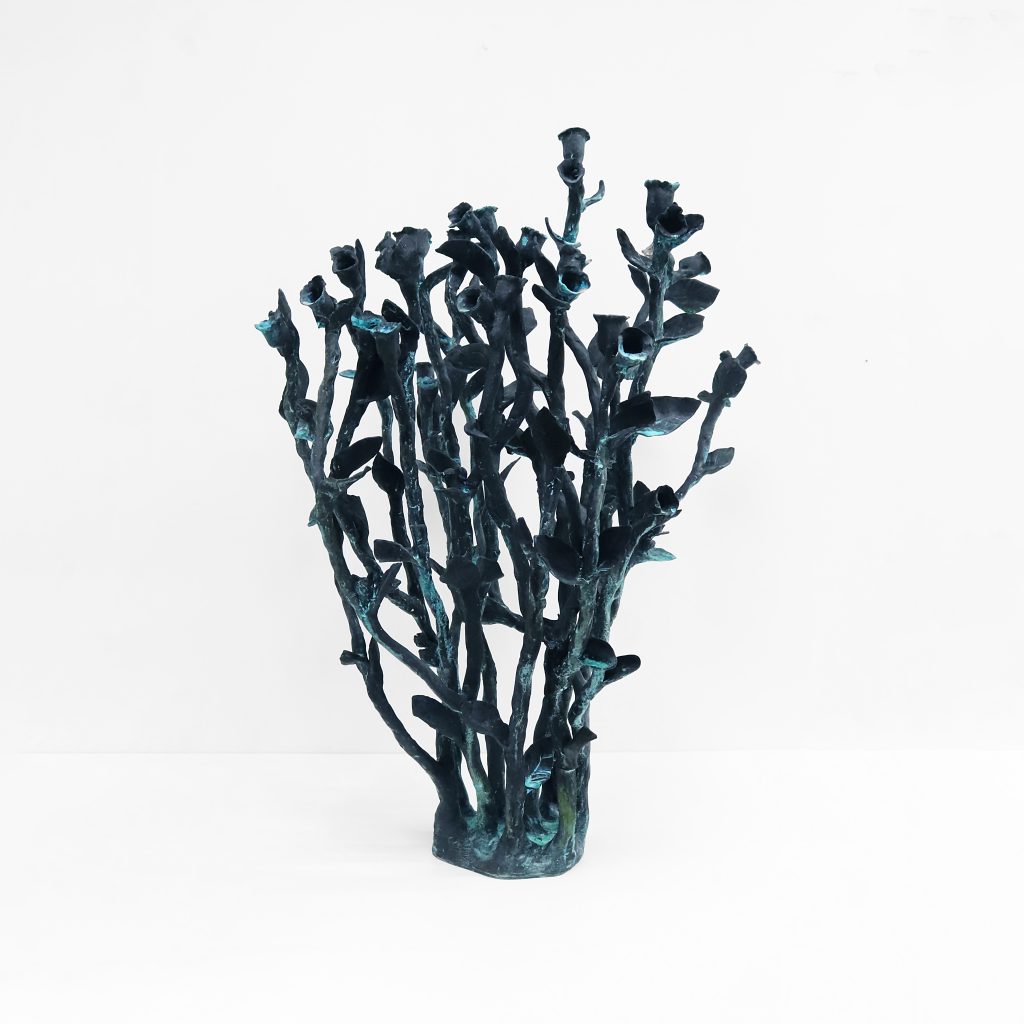 Rose Eken & Maximillian Brown
I See A Darkness
November 11 – December 10 2022
See preview of works here
Charlotte Fogh Gallery is pleased to present the exhibition "I See A Darkness" by Rose Eken and Maximillian Brown. This exhibition marks the first time the two artists display their work together showing bronze sculptures by Eken and paintings by Brown.
The exhibition "I See A Darkness" is partially a dialogue between Eken and Brown's work, underlining the artists compatibilities as well as their differences, when embracing ideas surrounding darkness, both formally and conceptually. The sensuous, immersive, and poetic side of the duality of darkness is a meeting point for the duo. The exhibition title sends homage to Will Oldham (also known as Bonnie "Prince" Billy) and the artist's vinyl record called "I See A Darkness" from 1998. The vinyl revolves around darkness as a metaphysical experience often connected by grief, loss, and despair, but also holds a kind of hope.
Eken's figurative bronze sculptures operate in tandem with Brown's abstract paintings creating a kind of tableau. Provoking ideas of rituals, sublime religious experience, sorrow and uncertainty construct a tension, as if stepping into a vacant ceremonial scene. The forged bronze sculptures operate in flux with the immersive voids that surround them, their works distorting with the changing perspectives of the viewer. The dialogue between the works almost sets a stage, as if it were a play, but the audience were looking through a keyhole and it was spoken in a language that was completely new. Allowing for glimpses of understanding, symbolic reference, and wordless communication. Rather than conveying information to the participants, Eken and Brown offer a series of suggestive disclosures, as if it were a breadcrumb trail through the forests of Nahanni Valley.
Rose Eken (b. 1976, DK) graduated from The Royal College of Art in London in 2003 and has since then exhibited works nationally at ARoS Aarhus Art Museum, Horsens Art Museum, Hjorths Fabrik – Ceramic Museum of Bornholm, and Vestjylland Art Museum as well as internationally in New York, Paris, Istanbul, Berlin, and others. Eken is represented in the collections of ARoS Aarhus Art Museum, Horsens Art Museum, Vejen Art Museum, CLAY Ceramic Museum Denmark and The Danish Arts Foundation. Rose Eken lives and works in Copenhagen.
Maximillian Brown (b. 1994, UK) holds a BA Hons in Mixed Media Fine Art from The University of Westminster (2014 – 2017). Maximillian has since exhibited works at Eighteen Gallery, OUTPOST Gallery and V1 Gallery and is showing works at Charlotte Fogh Gallery for the first time. Maximillian Brown lives and works in Copenhagen.