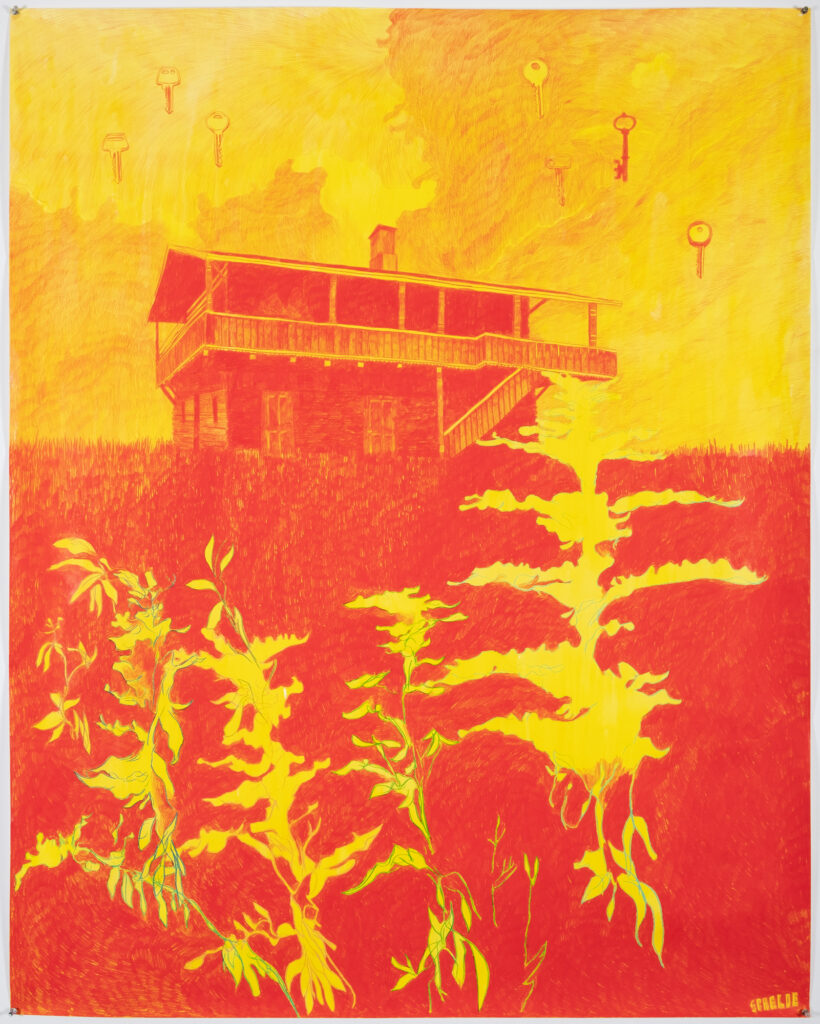 Morten Schelde: Under the Silver Blue Sky
9 June – 12 August 2023
Opening: Friday 9 June 2023 at 5.00-7.00 pm
Charlotte Fogh Gallery is delighted to present Morten Schelde's third exhibition in the gallery, "Under the Silver Blue Sky". The exhibition shows new drawings in both large and small formats which draw the threads from Scheldt's characteristic worlds of motifs, where especially architecture, interior and landscape executed in monochrome colors have a significant significance for the artist's practice.
In 2021, Morten Schelde moved from Copenhagen to Skagen and, like so many other artists over time, has allowed himself to be captured by everyday life in Skagen, the surrounding nature and architecture. But in continuation of Schelde's practice, where the motifs are documented and put into perspective through a camera, it is not the classic Skagen motifs that we are presented with at the exhibition. Morten Schelde has had access to private photographs from Ancher's house, which document the artists' everyday life, family parties, interior studies, nature and everyday life in Skagen around the 20th century. Schelde juxtaposes these motifs from the Skagen painters' private photo archive with his motifs of everyday life and the surroundings in today's Skagen, and the exhibition, "Under the Silver Blue Sky", unfolds in this poetic web of timelines, where past and present meet.
The exhibition also shows a number of blind drawings of plants – drawings that are sensory and suggest a different presence in the world, as a counterbalance to Morten Schelde's otherwise photographically recording approach to the works.
Morten Schelde (b. 1972) is educated at the Royal Danish Academy of Fine Arts and the Funen Academy of Fine Arts. The artist has works represented at, among others Louisiana Museum of Modern Art, Arken, Statens Museum for Kunst, Vestsjællands Kunstmuseum, Museum der Bildenden Künste in Leipzig and the New Carlsberg Foundation. In 2009, Morten Schelde carried out a major decoration task in Frederik VIII's mansion in Copenhagen, and he has recently created a cover for the band Raveonettes.
For further information, pictures etc. please contact Charlotte Fogh Gallery